Building Up STEAM: A Mobile "Classroom" for Students and Families to Explore Science, Technology, Engineering, Arts, and Math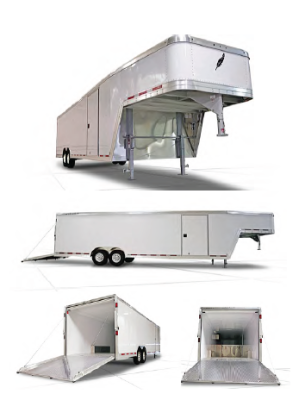 Modeled after a very successful project at the Klein ISD, where a mobile classroom "STEAM Express" was launched in 2016, Education Unbound plans to launch similar projects in Texas and the United States.

The STEAM Express brings age-appropriate, interactive, hands-on activities, and experiments to schools. In addition to the mobile classroom itself, students and parents are also provided with Internet-based resources to extend discovery and foster career-centered conversations with their children.


Building UP the STEAM Express
Education Unbound Foundation is exploring launching STEAM Express in the McKinney, TX area and adjacent communities, in partnership with the McKinney ISD Foundation, to enhance the district's mission of excellence in education.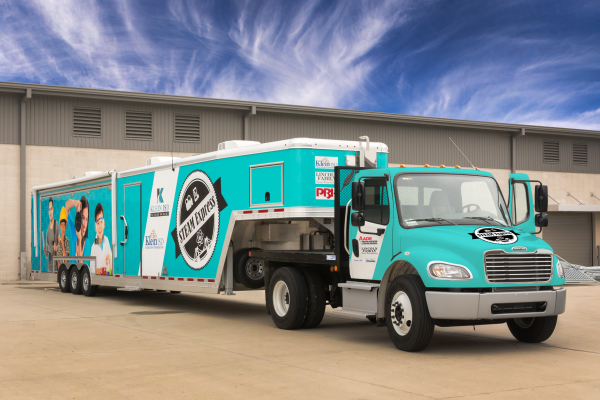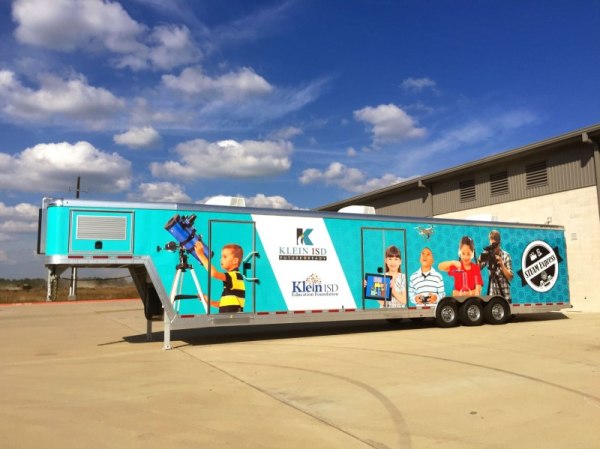 Why Create STEAM Express?

Because it is mobile!
STEAM Express is ideal for bringing STEAM learning to kids who might not otherwise have easy access to this type of education. The demand for STEAM jobs in the United States has been increasing at a fast pace, but we do not have enough supply of candidates that are educated or trained to fill those jobs. On top of that, there are even fewer minorities, women, or participants from rural areas, that are actively working in STEAM fields. The National College Resource Funds (NCRF) recent study showed that the United States, which used to be the top-ranking country in the world for education, has now dropped to 14th place.


STEAM Express seeks to fix this deficit by bringing STEAM education to communities that may not be equipped with the resources to educate and empower kids. By using cutting-edge technology, STEAM Express hopes to engage students and get them excited about the STEAM subjects that are so crucial to a 21st Century economy.

The STEAM Express will be a custom-built mobile classroom complete:




Unique activities and experiments for all ages (K-12)


Certified teachers who will share exciting and unique hands-on learning allowing students to travel outside the normal classroom experience




 A truck to pull the 48-foot custom trailer


Dropdown stage with 19-foot awning


 ADA-compliant wheelchair lift 20 kW diesel generator


Solar panels for power generation and green energy demonstration.
AN INSIDE LOOK


Steam Express will comprise of seven subject-specific stations that will put tomorrow's technology in the hands of students today. The subjects will change over time and evolve as the technology or the school needs evolve. Below are examples of these stations and their features: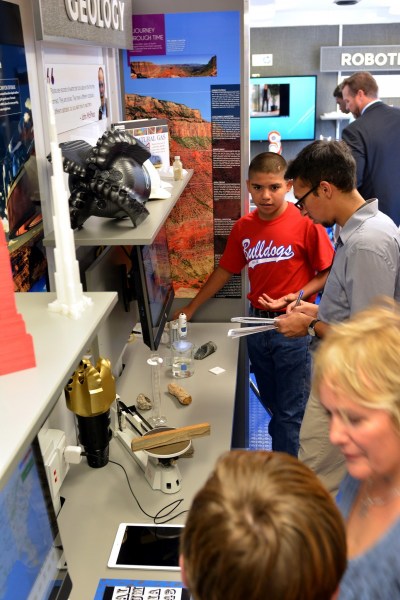 Green Energy: Kids learn about the various renewable energy forms and their advantages, using simple experiments and hands-on activities. They "generate" power using solar and wind, and learn about other renewable energy sources.
Software Programming: Students use simple programming software to create their own programs and experience the "fun" of software development.

Virtual Reality: Students get immersed in virtual realities, where they can visit new places, or play games, or get out-of-body experiences.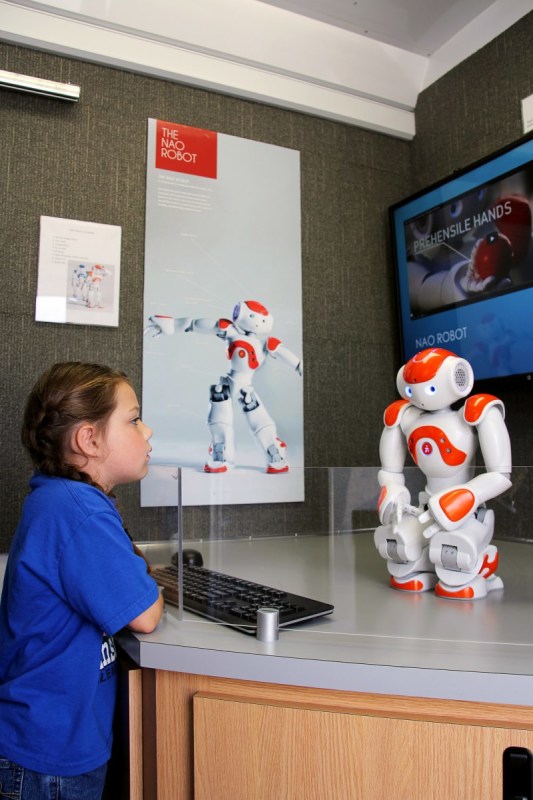 3-D Printing: Students experience the process of 3-D printing first hand.  The teacher demonstrates how to create a virtual design of a simple object, then generate a 3D-model of the design, then print it using the on-site 3-d printer.


Robotics: Students use robots to apply math concepts, bringing robotics and math together in the robotics station. Students practice computer programming to train a variety of robots to complete various tasks and can even communicate with a humanoid robot, that can recognize facial features and respond to instructions.
Space Exploration: Touch-screen technology allows students to explore our solar system and beyond in the space exploration area. Students also investigate models of space travel vehicles and the learn how a telescope works.


Meteorology: Students use interactive websites to study meteorology. Set up outside of the mobile classroom, a green screen and video camera allow students to become televised meteorologists!


Engineering: Students can creatively design and test models of real engineering structures in the engineering station.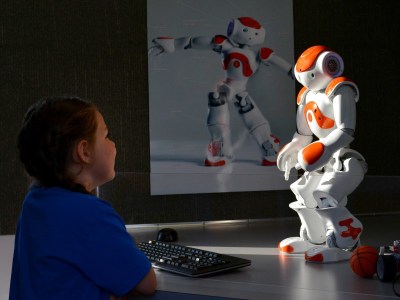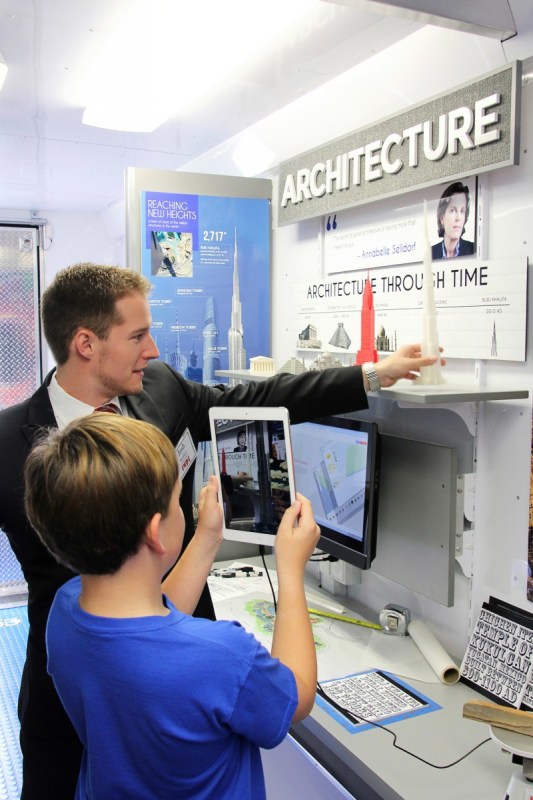 Architecture: Students design, construct their own plans, and use manipulative and Web-based programs in the architecture station. Students study how architects rely on an artistic eye in their design for otherwise mundane structures.

Geology: In the geology station, students become field geologists. They make observations, test and classify minerals, and study the formation of fossil fuels using microscopes and other magnifying technology.


Health/Nutrition: Students find out about health careers by building balanced daily meals using play food in the health/nutrition station. They discover how some foods are better choices than others through activities that reveal the immediate effect of the edible choices on their bodies.


Animation: Designed for the student with a big imagination that wants to learn how to create their own digital creations and animations.



FAMILIES JUMP ONBOARD

The Foundation is committed to keeping parents involved by scheduling the STEAM Express to make visits to school campuses after hours, such as on curriculum nights, evening open houses, and other family-oriented events. The trailer's mobility brings these activities where families can experience them together. We encourage family engagement with the STEAM Express by helping parents continue the learning at home. Parents are provided with Internet-based resources to extend discovery and foster career-centered conversations with their children.


COMMUNITY ENGAGEMENT

During weekends and summer months, the STEAM Express will maximize its impact by visiting community centers and libraries. The availability of the mobile classroom outside of the academic schedule allows children who may not otherwise have the opportunity to explore STEAM Express to access its resources and activities.
​

SUPPORT STEAM EXPRESS'S MISSION

If you want to support STEAM Express's incredible mission of spreading STEAM education throughout the U.S., we would love to hear from you! Become a sponsor or learn other ways to help by contacting the Education Unbound Foundation.